51 years of racing yacht kits. A long history from the very first M-class designs moulded in GRP by the late Tony Abel, and various Marblehead designs and three Ten Raters by Frank Parsons, to the present One Metre/s.
Nylet 'SPIRIT Mk3' IOM racing yacht, with finely moulded and finished GRP round bilge hull & deck; various kit options (see price list).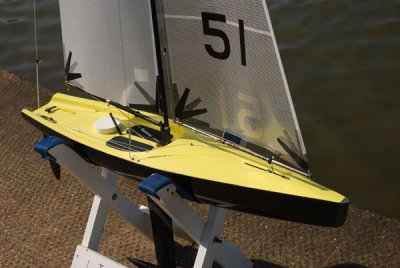 'SPIRIT THREE'
Designed by Frank Parsons and Robin Wheeler-Osman, with some redesigned features by Paul Beecroft, updated.
Available as a full kit with rig/s, all fittings, c.f. fin set, lead ballast, etc.
Available in semi-kit form (no rig, no ballast).
Coloured hulls available to your order (see price list).
Full kits with rig/s to your choice, see list.
Rig kits include all mast fittings, lines etc.
Deck fittings supplied with semi-kits & also full kits.
Racing scrim Nylet sails as standard with full kits.
Full instructions, suggestions (illustrated) to aid building.

A proven design during over a decade of racing, the Spirit Three has many improvements and tweaks, and optimum keel and mast position have been maximised to the full. Features a completely redesigned GRP deck and deck layout (click link/see photo of hull & deck laid on the grass).
She has all weather capability and can maintain position with her rig when others have had to reduce canvas. When beating she is impressive and she comes into her own when close hauled maintaining a steady course. Hands-off sailing shows her stable nature, and she points very closely. The carefully designed underwater hull shape pays dividends in the way she is quick to respond and handles ably in all conditions.
A very 'slippy' boat, a fellow yachtsman commented! In skilled hands she can be a dozen or so points ahead of the rest of the fleet giving a very convincing win at the end of the days sailing. She will give a very good account when pitched against the broader skiff type of yacht, and we have had many good responses from happy yachtsmen who have impressed others with her sparkling handling and ability to allow the skipper to set a fast course (the quickest way between two points is a straight line!), with the minimum of tacking.
FEATURES - a finely moulded GRP hull which is trimmed to deck level, carbon fibre fin & rudder and ready–made keel box (incorporating mast box). Rig kit includes Nylet racing scrim sails with 11.1mm aluminium mast & boom tubing. The GRP moulded deck has an after run drop.
Kit specifications vary, please see options under section 8 in the price list. GRP hulls moulded in white - colours to special order (at extra cost), blue, red, yellow, black, or orange. There is a choice of colour for the sail corners.
Kits come with a fully illustrated stage by stage colour building booklet (which includes rig building instructions). Our BB3 'How To' booklet is available at extra cost if required.
The latest Spirit 3 features increased freeboard, new radio layout and a (redesigned) moulded GRP deck with lowered after run. The new deck was introduced late in 2013 and was redesigned in '16.
Length 1000mm; approx. beam 215mm
All dimensions given here are a guide only, please refer to building instructions for measurements.
Building work to be done, and recommended tools: fin box and rudder post to be built in, and timber inwales and cross beams to accept deck, radio/winch platform to be constructed and fitted prior to fitting the deck. You will need either a bench or a workmate, a vice, a hand drill or electronic drill, drill bits between 1mm and 1.6mm, a small hand file, a junior metal saw, small clamps suitable for use on glassfibre parts, and various glues and adhesives, epoxy etc.

Images
Pictured - the original SPIRIT to the Mark 2b (for Mk.3 see the clickable link (yellow button above).